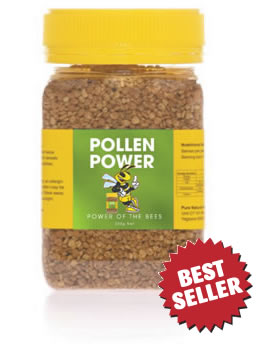 WA POLLEN POWER

Known as the Food of the Gods, pollen has been used for centuries as a food source and to increase energy and stamina. "Pollen Power bee pollen" is certified and extracted from the highest quality Eucalyptus species in Western Australia.



Provides the body with trace elements


Granulated Pollen for easy digestion


Sublingual Administration

Boosts energy, stamina and strength


Nature's most complete nourishing food


Vegan favourite power food


Speeds up recovery


Improves focus and alertness


Maintain general well being


27 minerals, 18 amino acids, 17 vitamins


20+ beneficial fatty acids, 11 Enzymes/Co enzymes

"I have tried many bee pollens from all parts of the planet. Your Pollen Power Bee pollen is in my opinion the best on the planet. Thank you, Namaste" ,

Brendan Georgeson
Noosa, Queensland
"Pollen Power" is one of the best picked pollen in
Australia, certified and picked by one of the leading bee
keepers in the country. Western Australia's eucalyptus
pollen is renowned for being the tastiest in the world, as
well as being of high quality. The pollen is harvested free
of chemicals and from pristine forests and conservation
reserves.




Food Safety: A safe quality food standard: A Hazard
Analysis Critical Control Point (HACCP) guides the
Western Australian pollen industry to produce
unique quality pollen to an internationally
recognised standard.

Our bee keepers, who produce "Pollen Power"
produce exceptional bee pollen. Their personnel were
closely involved in the development of the Hazard
Analysis Critical Control Point (HACCP) system which
guides the bee pollen industry in Western Australia.


Below is an aerial image from the pristine lands of South West Western Australia where my colony is located. Cannot see much can you! This is the reason why Western Australian bee pollen is the best in the world. We live in an uncontaminated and unpopulated forest. We have no pollution, no pesticides or chemicals and we live free from radiation which makes our bee pollen the greatest and tastiest in the world.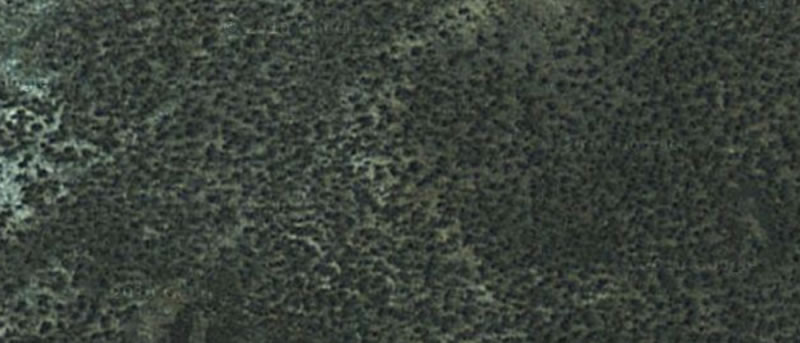 What you need to know!



Honey bee Hailey states that.. "Our pollen is only as healthy as us bees"

There is a lot to be said for finding the right bee pollen supplement. Bee pollen is collected in a variety of ways and likewise, is distributed in a variety of ways. It is also a sensitive issue as to where geographically the bee pollen was collected.

Not all bee pollen supplements are created equal. Choosing the wrong supplement can mean the difference between vibrant benefits and no benefits at all.

Consumers need to be made aware that although consuming bee pollen may improve ones energy, many of the products currently available are self policed meaning there is no regulation to say that you are actually buying natural bee pollen.

If you really want the true benefits that bee pollen can offer, you need to know the truth about bee pollen and the dietary supplement industry as a whole.

Beware of imported bee pollen: Many Australian distributors of bee pollen have switched from selling domestic Australian bee pollen to inexpensive imported pollen from China and Spain. This type of pollen is often heat processed and dehydrated to facilitate easy storage and increased shelf life. Unfortunately, heat destroys the bioactivity of nutrients and enzymes which are an important component of bee pollen. Granules of fresh bee pollen are semi-moist. Once pollen has been collected it is most nutritive when fresh, after 12 months its food value declines. Even though some of these companies are registered as Australian companies, it does not necessarily mean that the bee pollen they sell is sourced from local bee keepers.

Bee pollen, in Australia of the highest quality, is almost always found to come from Western Australia. Western Australia is fairly unpopulated and that eliminates a great deal of the pollution caused by human beings naturally. It is also, partly due to being so scarcely populated, that it is not highly industrialized and therefore, makes a lovely breeding ground for bees to create bee pollen naturally without the side effects of pollution on their pollen.
Nutritional Information Panel for "POLLEN POWER" Bee Pollen.
Serves per pack: 25 (250gm)
Serving size: 10grams
Average Quantities
Per Serve
Per 100 grams
Energy
130Kj
1310Kj
Protein
2.5g
25g
Fat
Total
Less than 1g
1g
Unsaturated
Less than 1g
Less than 1g
Carbohydrates
Total
5g
50g
Sugars
5g
50g
Sodium
1mg
10mg
Prepared by Inman and Farrell
Analysts and consulting technical chemists
Registered under the WA health act
NATA accreditation No: 14423



http://wopared.aph.gov.au/house/committee/primind/honeybee/subs/sub036.pdf
SUBMISSION INTO THE FUTURE DEVELOPMENT OF THE AUSTRALIAN HONEY BEE INDUSTRY.
Bee Pollen Nutrition
Vitamins
Minerals
Provitamin A (carotenoids) 5-9 mg %
Vitamin B1 (thiamine) 9.2 micrograms %
Vitamin B2 (riboflavin)
Vitamin B3 (Niacin)
Vitamin B5 (panothenic acid)
Vitamin B6 (pyridoxine) 5 micrograms %
Vitamin B12 (cyamoco balamin)
Vitamin C (ascorbic acid)
Vitamin D - Vitamin E
Vitamin H (biotin)
Vitamin K. Choline. Inositol
Folic Acid, 5 micrograms %
Pantothenic acid 20-50 micrograms/gram
Rutin. 16 milligrams %
Rutin in beehive pollen 13%
Vitamin PP (nicotinicamide)
Calcium. 1 - 15% of ash
Phosphorus 1-20% of ash
Iron, 1-12% of ash
0.01-1.3% of fresh pollen
0.6-7.1 mg % of air dried
Copper 05-08% of ash
1.1-2.1 mg % of fresh
Potassium, 20-45% of ash
Magnesium, 1-12% of ash
Manganese, 1.4% of ash, 0.75 mg %
Silica, 2-10% of ash
Sulphur, 1% of ash
Sodium - Titanium-Zinc
Iodine - Chlorine
Boron-Molydbenum
Fatty Acids (Conifer Pollen)
Total list identified are:
Caproic (C-6) - Caprylic (C-8)
Capric (C-10) - Lauric (C-12)
Myristic (C-14) - Palmitic (C-16)
Palmitoleic (C-15) one double bond
Uncowa - Stearic (C-18)
Oleic (C-18) one double bond
Linoleic (C-18) two double bonds
Arachidic (C-20) - Stearic (C-22)
Limolenic (C-18 three double bonds)
Eicosanoic (C-20 one double bond)
Brucic (C-22 one double bond)
Pseudotduga dry pollen contains
0.76-0.89 % fatty acid. Major are:
Oleic, Palmitic, Linoleic,
Pinus dry pollen contains:
125-1.33% fatty acid based on
dry weight of pollen, major are:
Linolenic, Oleic - Stearic.
Enzymes & Co-enzymes
Disstase
Phosphatase
Amylase
Cataiase
Saccharase
Diaphorase
Pectase
Cozymase
Cytochrome systems
Lactic dehydrogenase
Succinic dehydrogenase

Protein Content



Isoleusine
Leusine
Lysine
Methionine
Meat (beef)
0.93
1.28
1.45
0.42
Eggs
0.85
1.17
0.93
0.39
Cheese
1.74
2.63
2.34
0.80
Pollen
4.50
6.70
5.70
1.82
Phenylalamine
Threonine
Tryptophane
Valine
Meat (beef)
0.66
0.81
0.20
0.91
Eggs
0.69
0.67
0.20
0.90
Cheese
1.43
1.38
0.34
2.05
Pollen
3.90
4.00
1.30
5.70
How to take bee pollen.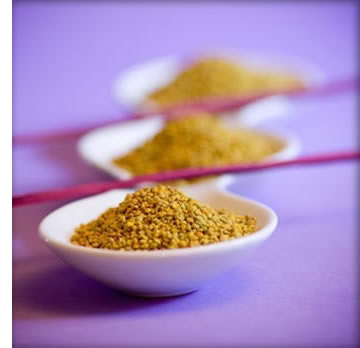 Your digestive system may not be accustomed to such intensely rich food. If you are a beginner, introduce bee pollen into your diet slowly, a granule or two at a time. Don't cook with the granules or add powdered granules to anything that requires heat. Heat destroys the live enzymes and reduces the nutrient value. Otherwise, the sky's the limit.

You can stir powdered granules into vegetable juices, or even into water sweetened with raw honey. Whirl the powder into salad dressings. Sprinkle whole or powdered granules on toast topped with peanut butter. Before taking a full dose of pollen it is very important to test for a possible extreme allergic reaction by ingesting just one pellet. Then gradually build up over a week or so to the correct serving.

The optimal serving of pollen varies with individual needs. You should gradually increase your serving to one tablespoon. It will give about five grams of protein which is a good addition if you already have some proteins in your meal, such as a legume dish.




How much to take :



Adults: One teaspoon (5 grams) taken twice daily.

Endurance runners and weight lifters can take up to 4 teaspoons a day. If you have allergies take half the recommended serving of pollen in the morning and half again in the afternoon.

Children: Children can start with 3 to 4 granules in the morning. This can be increased over time dependent on the child's needs.



For how long should pollen be taken?



Pollen should be taken for a minimum of one month.

Please note that the body's response to bee products varies from person to person, including the length of time for certain results to occur. However, the overall results in all our customers has been positive. That is why, once a person has enjoyed the benefits of these products, they do not want to give it up or return to their old vitamins.



Allergy Test:

If you have never taken pollen before and just want to be sure, take a couple of granules and place them under your tongue and allow them to dissolve. If no adverse reaction is noticed, next morning take a few granules. Over the period of a couple of weeks you can build yourself up to the full strength serving.



Side effects


Food Warning: Pollen Power contains bee pollen which can cause severe allergic reactions. Although there are many benefits of bee pollen, those who are allergic to bees should avoid bee pollen (and other bee products).



Disclaimer:


The above information should not be seen as a claim for any remedial properties, it is entirely based on experience of bee pollen users, and therefore it is advisable to consult your physician or homeopath regarding treatment.
None of the information on this website is intended to replace sound medical advice, nor is it recommended for people to stop their prescribed medications.
The Sublingual Delivery System
Bee pollen is best taken sublingual - 'Under the tongue', where the pollen absorbs into the blood stream through tissues under the tongue.
When bee pollen comes in contact with the mucous membrane beneath the tongue it quickly diffuses and enters the venous circulation. This is because the connective tissue beneath the epithelium contains a profusion of capillaries where bee pollen is diffused into the capillaries and easily enters the venous circulation.
In contrast, bee pollen capsules absorbed in the intestines are subject to "first pass metabolism" in the liver before entering the general circulation, so you lose a lot of the pollen content.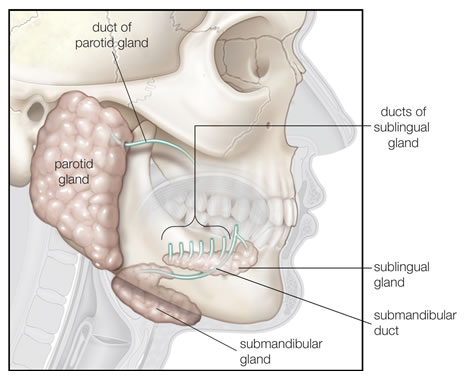 Sublingual administration of bee pollen has certain advantages over capsule administration. Being more direct, it is often faster, and it ensures that the bee pollen will risk degradation only by salivary enzymes before entering the bloodstream, whereas orally administered capsules must survive passage through the hostile environment of the gastrointestinal tract, which risks degrading them, either by stomach acid or bile, or by the many enzymes therein, such as monoamine oxidase (MAO).
Furthermore, after absorption from the gastrointestinal tract, such capsules must pass to the liver, where they may be extensively altered; this is known as the "first pass metabolism" effect of capsule metabolism. Due to the digestive activity of the stomach and intestines and the solubility of the GI tract, the oral route is unsuitable for certain substances, such as bee pollen capsules.