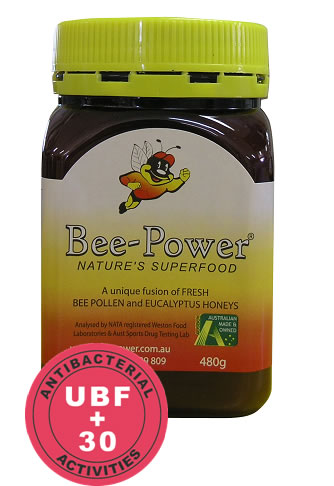 BEE POWER INFUSION


A unique fusion of fresh WA bee pollen and Eucalyptus honey, two of natures most powerful and effective ingredients. UBF +30 Antibacterial activities, Bee-Power will help you boost your immune system. Contains a multitude of vitamins, minerals and antioxidants.




Proudly Australian Made


UBF +30 Antibacterial Properties


Boosts Energy, Vitality and Stamina


Helps Digestion


Fight Free Radicals


Helps Manage Stress


Antimicrobial Action


Builds Immune System


A Multitude of Vitamins and Minerals


Low GI and Omega 3 Rich


98% Fat Free

Bee prepared to be invigorated



Only one teaspoon of Bee Power taken daily will give you the sustained energy boost you need for today's busy lifestyle. 100% all natural Bee Power supplies the body with an abundance of vitamins and minerals ensuring that you stay happy and healthy.

To help boost your family's immune system today, Bee Power provides you with 30+ Antibacterial properties, the highest of any bee products in the world today.

Imagine what Bee Power can do for you and your family.

Omega-3 to help balance your metabolism
Zinc to help support your immune system.
Glucose and Amino Acids to aid recovery during and after exercise.
A multitude of vitamins, minerals and antioxidants.

Unlike some pollen capsules and multi-vitamins BeePower is 100% natural. A unique fusion of fresh Bee Pollen and Eucalyptus Honeys enables easy absorption into the body.

BeePower is arguably the best pollen product in the world. It has higher levels of effective
ingredients than any other documented product. Hard to argue that!
A comparison
Bee Power vs Manuka honey comparison chart
| | | |
| --- | --- | --- |
| Nutritional Information | BeePower | Manuka |
| Amino Acids | | |
| Antibiotics | | |
| Antioxidants | | |
| B 12 | | |
| Calcium | | |
| Carbohydrates | | |
| Energy | | |
| Fat | | |
| Iron | | |
| Magnesium | | |
| Omega 3 | | |
| Protein | | |
| Sodium | | |
| Vitamin A | | |
| Vitamin B3 | | |
| Vitamin C | | |
| Zinc | | |
No confusion with the infusion



BeePower is infused with Bee Pollen and Low GI Eucalyptus Honey.

By infusing the bee pollen with the honey, the pollen becomes incapable of deterioration or decay while it is immersed within the honey. Bacteria cannot thrive in a honey medium, due to its hygroscopic (anti-moisture) properties. By infusing this combination of bee pollen and honey, both remain pure and intact for many years.

Bee Pollen also contains active antibiotic substances that immediately destroy harmful pathogenic bacteria upon contact. High in Aspartic Acid which is valuable for the body and its rejuvenation. Bee Pollen has a dramatic effect upon mental perception during athletic performances.



How to take Bee Power



One teaspoon a day will pave the way.
Great for shakes, smoothies, toast and cereals.



"Bee Power" nutritional information panel


Avg. qty per 30g
daily serve
Avg. qty per
100g serving
Energy
449kJ (107 calories)
1497kJ (358 calories)
Protein
3.5gm
11.6gm
Fat - Total
0.6gm
1.9gm
- Saturated
0.1gm
0.4gm
- Trans
Less than 0.1 g
Less than 0.1 g
- Polyunsaturated
0.3gm
0.9gm
- Omega 3 Alphalinolenic Acid
240mm
800mm
- Monosaturated
0.1g
0.4g
Carbohydrates
24.1gm
80.4gm
- Sugars
19.5gm
64.9gm
Sodium
1.0mg
3.0mg
Zinc
2.4 mg (20% RDI*)
8.0gm
Antioxidants
206 µmol TEAC **
688 µmol TEAC**
Iron
.75mg
2.5mg
Vitamin C
1.59mg
5.28mg
Calcium
6.9mg
23mg
Magnesium
6mg
20mg
Vitamin B3
.75mg
2.48mg
* Recommended Daily Intake ** Trolox Equivalent Antioxidant Capacity
Bee Power Frequently Asked Questions
How do I take Bee Power?
One teaspoon a day will pave the way.
Great for shakes, smoothies, toast and cereals.  

Can I put it my tea/coffee?
Bee-Power cannot be put in boiling water as it destroys the beneficial properties of Bee-Power.

Can I take Bee-Power with medication?
Bee-Power can be taken safely with other medications or supplements.

How should I store Bee-Power?
Bee-Power should be stored at room temperature. Do not store it in the refrigerator. Bee-Power has a long shelf life.

At what age can I start taking Bee-Power?
Bee-Power as with any honey products should not be taken before the age of 2.

Can I put it on cuts and abrasions?
Bee-Power can be put on cuts, abrasions, eczema and ulcers. Simply rub on to the affected area. Honey is an ancient remedy for the treatment of infected wounds, which has recently been 'rediscovered' by the medical profession, particularly where conventional modern therapeutic agents are failing. There are now many published reports describing the effectiveness of honey in rapidly clearing infection from wounds, with no adverse effects to slow the healing process; there is also some evidence to suggest that honey may actively promote healing. In laboratory studies, it has been shown to have an antimicrobial action against a broad range of bacteria and fungi.

Can I use it as a facial?
Bee-Power can be used as a facial mask about once per week as part of your natural skin care regime. First open the pores with a warm, damp cloth, smooth Bee-Power on your face and neck, leave it on for 15 to 30 minutes, and then rinse off with warm water. Splash you face with cold water afterwards to close the pores. After you've finished your Bee-Power beauty treatment, keep your skin looking that way for hours with a shielding moisturising lotion. It will lock in moisture, and keep chemicals and environmental pollutants from irritating the skin. Honey is nourishing for the skin, pollen acts as an exfoliant and also has rejuvenating properties.
Food Warning:
Bee Power contains bee pollen which can cause severe allergic reactions. Although there are many benefits of Bee Power, those who are allergic to bees should avoid bee pollen (and other bee products).

Disclaimer:
The above information should not be seen as a claim for any remedial properties, it is entirely based on experience of Bee Power users, and therefore it is advisable to consult your physician or homeopath regarding treatment.
None of the information on this website is intended to replace sound medical advice, nor is it recommended for people to stop their prescribed medications.